It is now clear that the two-time W Series champion Jamie Chadwick will compete in ROC Snow + Ice at Pite Havsbad February 5-6. She will thus be the second woman ever to take part in the competition and will, in addition to competing in the individual competition, also represent Great Britain together with the Formula 1 legend and winner of the Race Of Champions 2014 and 2018, David Coulthard in the ROC Nations Cup.
- I am incredibly happy to make my Race Of Champions debut in Sweden. It is an event that I have always loved to watch and I look forward to experiencing it for the first time. It is an honor to represent Britain with an icon like David Coulthard, says Jamie Chadwick.
With 13 Formula 1 Grand Prix victories and 62 podium places, the former Formula 1 star David Coulthard also joins the competition to form the UK team in this year's ROC Nations Cup. Coulthard is known for supporting the W-series for women and is an outspoken advocate for women in motorsport and racing.
- It is important that motorsport keeps up with developments in areas such as gender equality and sustainability and it is logical that ROC is also a showcase for female drivers, says David Coulthard and continues.
- Race Of Champions is an event that I always enjoy competing in, but competing on snow and ice this year will be quite different from the stadium tracks. I have driven a bit on ice with AMG Mercedes in Sweden before, but it will be a challenge to beat the Nordic drivers when they are in their element, says David Coulthard.
Susie Wolff was the first
It is eight years since the first woman completed the Race Of Champions, it was Susie Wolff who in 2014 also joined forces with David Coulthard and finished in second place in the ROC Nation's Cup. Now the organizers hope to see more women find their way to motorsport.
- Michele Mouton, one of the world's most successful female drivers who proved that women can win against men at the highest level, founded Race Of Champions together with me and we have always had many women in important positions in our organization, says Fredrik Johnsson, President Race Of Champions and continues.
- ROC is entirely designed to be an equal playing field for everyone. We look forward to seeing more women compete at the top level of motorsport.
- Now you really feel that it is starting to get closer. We have a very strong starting field, now also with a female world leader. Now we only hope for really good weather at this world-unique motor party on the frozen sea will be as good as possible, says Tobias Lindfors, CEO and owner of Pite Havsbad Group.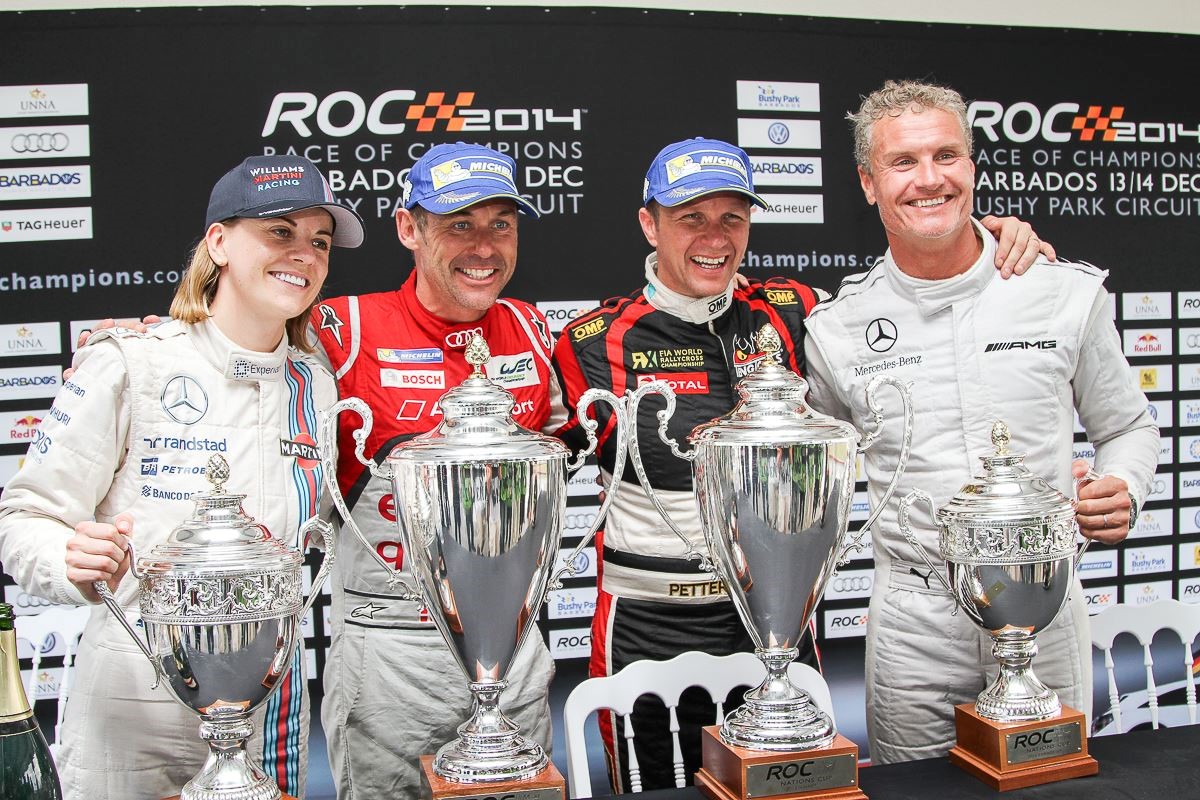 World stars ready for the event
Four-time Indy 500 champion Hélio Castroneves, four-time Formula 1 world champion Sebastian Vettel, F2 and F3 champion and current Formula 1 driver Mick Schumacher, nine-time Le Mans winner Tom Kristensen, reigning FIA world champion in rallycross and Extreme e champion 2021 Johan Kristoffersson, nine-time world champion in rally Sebastien Loeb, seven-time NASCAR champion Jimmie Johnson, rally star and reigning ROC champion Benito Guerra, three-time winner of Race Of Champions Mattias Ekström, rallycross world champion Timmy Hansen, two-time Formula 1 world champion Mika Hä star Valtteri Bottas, American Rally Association Champion and Nitro Rallycross Champion 2021 Travis Pastrana, FIA World Rally and Rallycross Champion Petter Solberg and his son, the new WRC star Oliver Solberg.