Promoters of the annual Race Of Champions (ROC), announced today the addition of American, Travis Pastrana, to the growing list of top-tier drivers participating in ROC's latest innovation in motorsports competition. The first ROC World Final on Snow & Ice will provide some of the fastest racing in ROC's history, with the Arctic cold and ever-changing surfaces promising to provide unique challenges to a line-up of some of the world's best drivers.
To be held at the beginning of 2022 in Pite Havsbad, Sweden, the event will mark Pastrana's ninth visit to ROC—an annual showdown that for more than thirty years has drawn many of the most successful racers from every corner of global motorsports to contest the individual championship and the team competition, ROC Nations' Cup. In the event at Stade de France in Paris in 2005, Pastrana made it to the semi-finals in individual competition as he famously climbed through the qualifiers of that event with a broken leg. The best result in the ROC Nation's Cup event with Team USA is second. For ROC Sweden the 11-time X Games Champion is aiming to win it all.
"Race Of Champions is such a prestigious and unique event. It's an honor to be able to compete against so many icons and legends from all disciplines of racing. I don't know who my teammate on Team USA will be yet. It would be nice to team up for example with Nascar Champion Jimmie Johnson again and try to do even better than we did at Wembley Stadium in England! But whoever my teammate is we will aim to win it all," said Pastrana, just after winning the 100 Acre Wood Rally, ahead of Ken Block, and taking the lead in the 2021 American Rally Association series.
Travis' list of career firsts is extensive and includes winning the first-ever X Games in California and landing the world's first double backflip on a motorbike. He has accumulated 17 X Games medals, including 11 gold medals and is 4-times America Rally Champion. Beyond his prowess as an athlete, Pastrana is the co-creator and superstar of the Nitro Circus action sports franchise, Nitro World Games and the upcoming Nitro Rallycross Series. He's broken more than 60 bones, survived 25 concussions and, in the process, become the world's most celebrated extreme sports Champions. "I'm not Crazy, just very competitive", Travis says.
World famous extreme sportsman
Travis Pastrana has recently won the 100 Acre Wood Rally ahead of Ken Block, taking the lead in the American Rally Association 2021 series. Pastrana is a four-time champion in American Rally and also the first ever to land a double backflip with motocross in a competition. In addition to his success as an athlete, Pastrana is a co-founder of the Nitro Circus action sports franchise, Nitro World Games and the upcoming Nitro Rallycross series. Pastrana has broken more than 60 legs, survived 25 concussions and is one of the world's most famous extreme athletes. During the Race Of Champions at the Stade de France in Paris in 2005, Pastrana reached the semifinals of the individual competition, which he successfully fought through despite a broken leg.
- I'm not crazy, just very competitive, says Pastrana.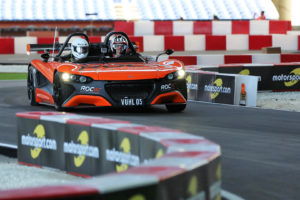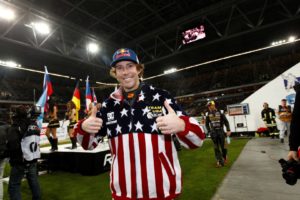 For the inaugural ROC World Final on Snow & Ice, Pastrana will race head-to-head against a growing list of legends, champions and rising stars already announced, including 9-time Le Mans winner, Tom Kristensen, and reigning FIA World Rally and Rallycross stars Johan Kristoffersson, Petter Solberg and Oliver Solberg. The event's promoters expect some of the biggest stars from the Nordic countries to be on hand for the ROC Nations Cup as well as the individual championship.

ROC Nations Cup was introduced in 1999 and quickly became a fixture in every ROC WORLD FINAL since. Held on the first day of competition, this novel team event has created some fierce rivalries and enduring dynasties, including Germany's dominance from 2007 through 2012 delivered by multiple Formula 1 World Champions and Nations' Cup team mates, Michael Schumacher and Sebastian Vettel. "I'm proud that we have created an event that has become so important to drivers," said ROC co-founder and President, Fredrik Johnsson. "Some great friendships and rivalries have been established here over the years."

"Race Of Champions at Pite Havsbad will be a world-unique event with the only Race Of Champions in the world on snow and ice. It will be very exciting to see one of the world's best drivers, Travis Pastrana take on the race on the frozen Baltic Sea. It will attract a large audience and be a spectacular event," says Tobias Lindfors, chairman and owner of Pite Havsbad Group.

The date in early 2022 as well as the ticket sales will be released before the summer. The final driver line-up for ROC Snow & Ice will be announced in the lead up to the event, but Race Of Champions is renowned for attracting superstars from all of the premier leagues in global motorsports including Formula 1, Le Mans, Nascar, IndyCar, World Rally and Rallycross. Over its three decades, the event has been a battleground for European legends like Michael Schumacher, Tom Kristensen, Sebastian Vettel, Sébastien Loeb, Petter Solberg, Mattias Ekström, Colin McRae, David Coulthard, Marcus Grönholm, and Jenson Button; along with other international stars like Nascar champions Jimmie Johnson, Kurt and Kyle Busch, and Jeff Gordon; Ryan Hunter-Reay and Josef Newgarden of IndyCar; Formula E Champion Lucas Di Grassi; and Indy 500 champs Juan-Pablo Montoya and Helio Castroneves.
ROC Sweden: Carbon neutral event.
Another innovation to be introduced at the 2022 event, the equipment will all be powered by either electric or 100% fossil-free biofuel engines. "These are the first steps toward making Sweden our first carbon-neutral event," said Johnsson. "It is ambitious, but it is essential for motorsports to move to more sustainable vehicles and operations."
Cars announced to date include the FIA RX2e—an electric rallycross car generating 250kW (335bhp) of power and up to 510 Nm torque. The RX2e accelerates from 0-100km/h in less than 3.3 seconds. The SuperCar Lites will return to ROC, but this time powered by biofuel. "We have more exciting announcements to come," continued Johnsson. "The fast, frozen track will be a great test for these newer technologies."

Event organizers expect to host live attendance, but have a contingency plan to comply with any COVID restrictions that persist. Organizers and local officials will be providing updates through 2021 (visit raceofchampions.com) with regard to date, ticket sales and any restrictions affecting travel and local services due to COVID, as well as updates regarding any permitted live attendance and ticket sales.
About Race Of Champions:
The Race Of Champions (ROC) is a defining contest in global motorsports. For 30 years it has given audiences and world champions a unique head-to-head showdown designed to level the playing field and crown the world's very best of the best. ROC draws on a diversity of disciplines from Formula 1, IndyCar, and other open-wheel leagues, to the grittier contests of NASCAR, World RallyCross and even MotoGP, as it travels the world and exotic venues.
Link to the #ROCSweden video clip: www.raceofchampions.com/video-snow-ice-intro-clip
www.raceofchampions.com
Contacts:
Fredrik Johnsson, President, Race Of Champions
[email protected]
Tobias Lindfors, Chairman and owner of Pite Havsbad Group
tfn +4670-343 42 32, [email protected]
Kristoffer Lundström, CEO and part-owner of Pite Havsbad Group
tfn +4670-305 13 23, [email protected]