Now the first car models are released ahead of the world races Race Of Champions at Pite Havsbad 2022. The brand new electric FIA RX2e Championship Car is presented together with an updated version of the Supercar Lites rallycross car. It is electricity or 100% fossil-free fuel that applies in an updated and environmentally friendly format of Race Of Champions. In addition to the transition to tracks on snow and ice, a new holistic view of sustainability will permeate the entire event.
Race Of Champions Snow & Ice at Pite Havsbad works towards being a carbon-neutral business with an overall commitment to sustainability. The event will offer entertainment for specially built electric cars as well as racing cars with 100% fossil-free specially developed motorsport fuel.
Time to renew the format
Race Of Champions has previously been held at prestigious venues such as Beijing Bird's Nest Olympic Stadium; Paris Stade de France; and London's iconic Wembley and Olympic Stadiums.
– The transition to competing on snow and ice at Pite Havsbad will be a new challenge for drivers and an entire event on a frozen open sea also provides a new unique experience for the audience. We have changed the formula before, and it was time to renew the format again, says Fredrik Johnsson, President, Race Of Champions.
But it is not only the format of the racetracks that is changing, a completely new green concept is being designed. In an effort to be constantly at the forefront, ROC works to prioritize sustainability both when it comes to equipment of the cars and how the event is held. With a holistic view, ROC will focus on three areas to prioritize sustainability; carbon dioxide reduction, waste management and recycling as well as community involvement and gender equality.
– Cars are the most important and difficult elements to change. It is obvious that the cars' equipment plays a big role at ROC and the cars must have high performance and be equal to each other, says Fredrik Johnsson.
95% of Pite Havsbad is heated with waste heat
In addition to carbon dioxide reduction during the competition itself, the organizer has high goals to make Race Of Champions a completely sustainable event. Pite Havsbad aims to be the sustainable and natural destination. Major investments have been made in Pite havsbad to enable 95% of Pite Havsbad to be heated by waste heat. Pite Havsbad has about 60,000 square meters of building space which consists of, among other things, three hotel buildings, 230 cottages, spa facility, 7 restaurants, 11 bars, conference facility, sports center / padel hall, adventure land and adventure pool. 100% of the electricity consumption at Pite Havsbad consists of renewable sources where the electricity comes from sun, wind and water. Pite Havsbad aims to be the most sustainable, large-scale tourist facility in the Nordic region.
– It is very important for us to focus on environmental issues and be a climate-smart alternative. Pite Havsbad Group works to be the natural choice, we take care of our nature and want all our events to be characterized by and take responsibility for environmental and sustainability issues. That 95% of Pite Havsbad is heated by waste heat is something we are very proud of, but of course we continue to work on developing these issues further, says Tobias Lindfors, Chairman and owner of Pite Havsbad Group. Together, we will work to make the event with Race Of Champions as climate-smart as possible, through a combination of Pite Havsbad's environmental work and Race Of Champions' focus on electricity and green cars, Tobias Lindfors continues.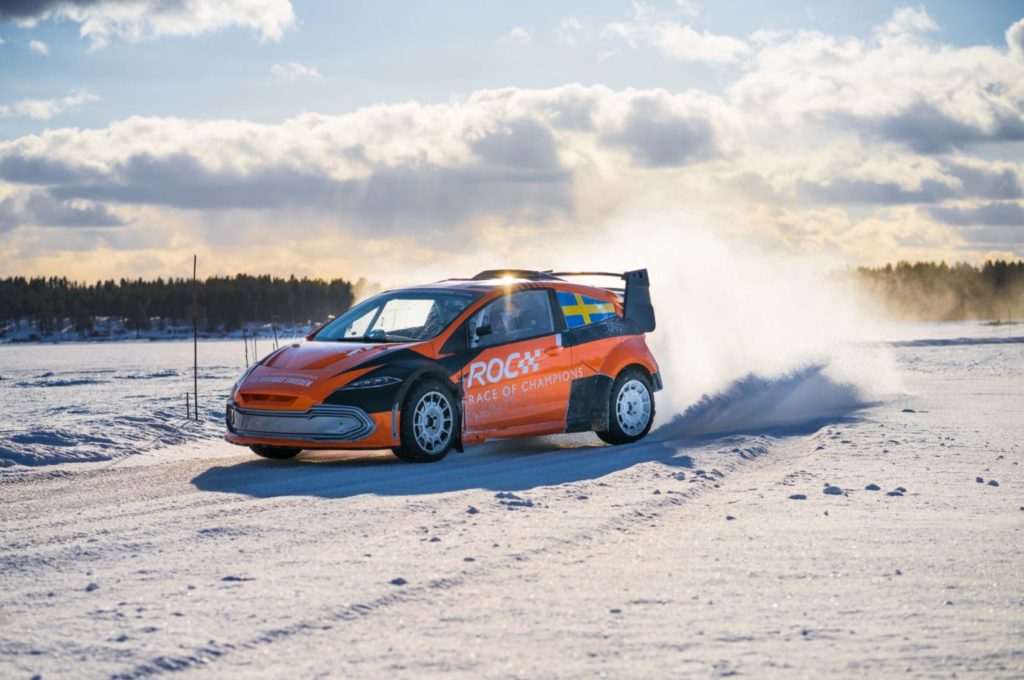 Powerful eco-friendly racing cars
Being able to generate 250kW (335bhp) and power up to 510 Nm of torque, and being able to accelerate from 0-100km / h in less than 3.3 seconds as an RX2e, is a performance that will create excitement and racing drama for both driver and audience. In collaboration with QEV Technologies and Olsberg's MSE, Race Of Champions will put some of the world's best drivers behind the wheel of the brand new electric FIA RX2e Championship Car.
– I'm convinced that the star drivers will love testing all of the RX2e's limits when competing head-to-head. According to what we have seen during the first tests, this brand new electric rallycross car has a very impressive overall performance, says ROC president Fredrik Johnsson.
– Rallycross is known for delivering some of the most breathtaking speeds in motorsport and with this car's acceleration and eye-catching function on ice, I have no doubt that the audience will enjoy every second, says Andreas Eriksson, CEO and owner of Olsbergs MSE.
The new RX2e has instant torque, tremendous power, lightning-fast acceleration, excellent balance and stability and advanced built-in features.
– An enormous amount of hard work has gone into the project with the FIA ​​RX2e. That we can present this new model during Race of Champions 2022 is really something very special. This is an event that brings together the world's best drivers in motorsport. Most people will be pulled from their comfort zones when the competition is on snow and ice, so it will be fascinating to see, says Joan Orús, CEO of QEV Technologies and continues.
– For us, it will also be very interesting and useful to be able to evaluate the drivers' feedback of the RX2e car. They clearly need to be able to master that car if they want to win.
Some of Sweden's best drivers got the chance to test drive the RX2e for the first time ever on snow and ice, and everyone was very impressed.
– Driving is the most important thing. Even if you have a lot of power in a Supercar, you can get in the wrong gear or too low number of revolutions, which causes a delay, but in this car, the torque and power are always there, said Kevin Eriksson.
– For me, it was the first time in an electric rallycross car, and my first impression was how easy the RX2e car was to drive, which was a very positive surprise. It was very easy to handle and I did not miss the gearbox at all - the electric motors give you the power you need from low to high revs, and you can really take advantage of that. It was a real pleasure to drive, adds Anton Marklund.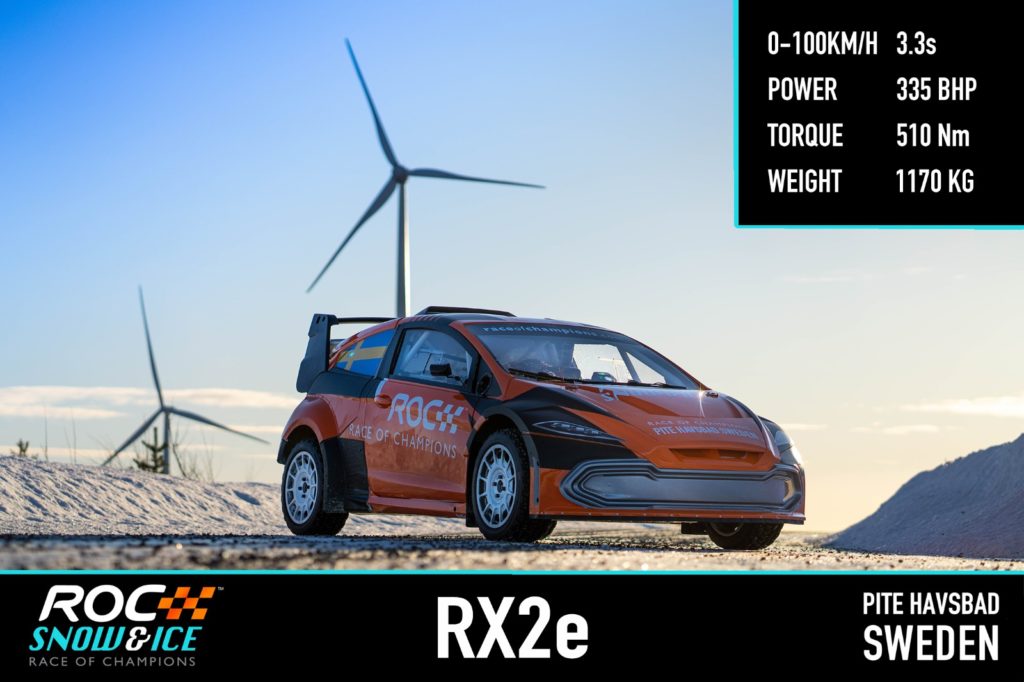 100% fossil-free specially developed motorsport fuel
In addition, an updated version of the Supercar Lite rallycross car, a familiar model in the ROC lineup, will now be powered by a revolutionary 105 octane 100% fossil-free fuel developed in collaboration with Olsberg's MSE and P1 Performance Fuels. The Supercar Lites cars accelerate from 0-100 km / h in 3.85-4.10 seconds depending on different grips.
ROC is one of the largest events planned to be held in Norrbotten and has entered into a multi-year agreement to organize additional events at Pite Havsbad. Drivers already confirmed for the unique event include Le Mans legend Tom Kristensen; reigning FIA world champion in Rallycross Johan Kristoffersson; FIA World Rally and Rallycross Champion Petter Solberg; and rising WRC star, Oliver Solberg.
The organizers expect to be able to have an audience on site, but have a plan to be able to organize the competition even if the situation with restrictions on COVID-19 continues. Ongoing information will be provided during 2021 regarding any restrictions that affect travel, audiences and ticket sales prior to the competition.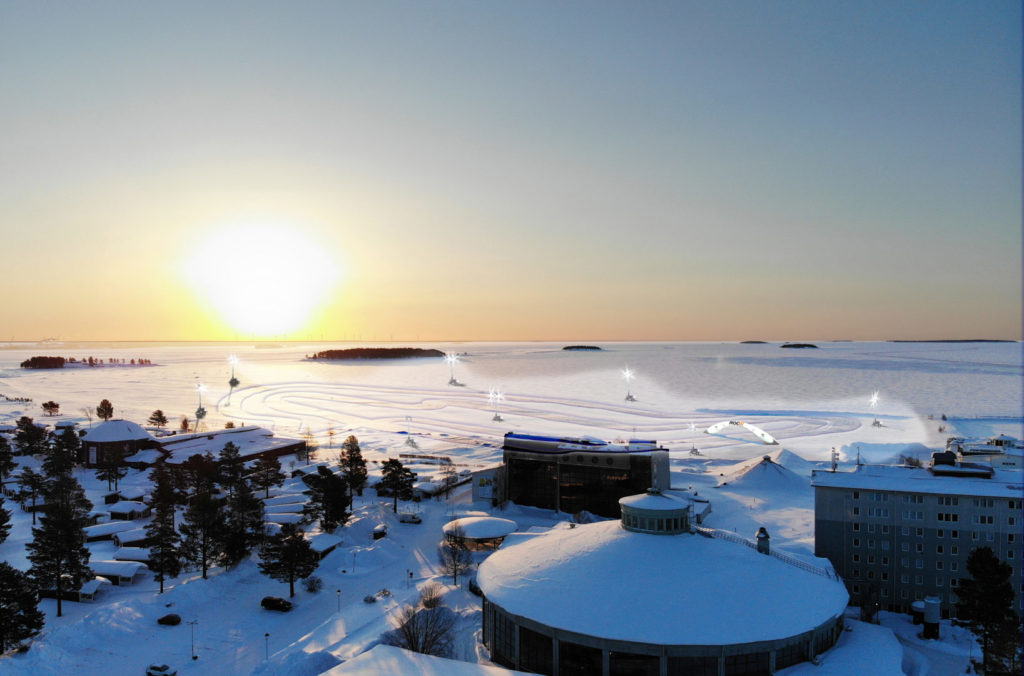 Contacts:
Fredrik Johnsson, President, Race Of Champions
[email protected]
Tobias Lindfors, Chairman and owner of Pite Havsbad Group
tfn +4670-343 42 32, [email protected]
Kristoffer Lundström, CEO and part-owner of Pite Havsbad Group
tfn +4670-305 13 23, [email protected]
About Race Of Champions:
The Race Of Champions (ROC) is a defining contest in global motorsports. For 30 years it has given audiences and world champions a unique head-to-head showdown designed to level the playing field and crown the world's very best of the best. ROC draws on a diversity of disciplines from Formula 1, IndyCar, and other open-wheel leagues, to the grittier contests of NASCAR, World RallyCross and even MotoGP, as it travels the world and exotic venues.
During its three decades, the event has been a competition arena for European legends such as Michael Schumacher, Tom Kristensen, Sebastian Vettel, Sébastien Loeb, Petter Solberg, Mattias Ekström, Colin McRae, David Coulthard, Marcus Grönholm and Jenson Button; along with other international champions such as Jimmie Johnson, Kurt and Kyle Busch and Jeff Gordon of NASCAR; Ryan Hunter-Reay and Josef Newgarden of IndyCar; Travis Pastrana from the X Games and Indy 500 champions Ryan Hunter-Reay, Juan-Pablo Montoya and Helio Castroneves.
www.raceofchampions.com
About QEV Technologies
QEV Technologies are real pioneers and leaders in electric motorsport globally, QEV has and competes only with electric racing cars and also builds super sports cars for an exclusive market.
www.qevtech.com
About Olsbergs MSE:
When it comes to the development of Rallycross cars, Olsbergs Motorsport Evolution is a respected name in the sport. Supercars and Supercar Lites are common in many parts of the world and now the tense future looks electric.
www.omse.se